Creating or Resetting your AMAZONAS Subscriber Password
An important note: magazine subscriber accounts are separate from the back-issue store accounts here on AMAZONASmagazine.com.
If you've lost access to your shopping account on the AMAZONASmagazine.com website, click here for password retrieval instructions.
If you are trying to access the digital edition or manage your subscription account, continue with the instructions below.
In January 2019, AMAZONAS Magazine switched subscription management platforms to a faster and more secure service, Subscription Genius. As part of this change, all subscribers' accounts are now secured using a password.
INVISIBLE ITEM - display:none on main element CSS to have all other accordion items closed.
"But I never had a password?" Expand to learn why you need one now.
Prior to 2019, AMAZONAS Online Customer Service only utilized a subscriber's email address for identification, both for logging into our digital edition and for managing subscriber information including changes of address and renewals.
Our security update means that most subscribers' accounts have never had a password associated with them, but going forward you'll need one to access your account information and more importantly, to view the web-based AMAZONAS Digital Edition.
It is extremely easy to generate a password for the first time, along with retrieving a lost one or creating one that is easy for you to remember. Follow the steps below.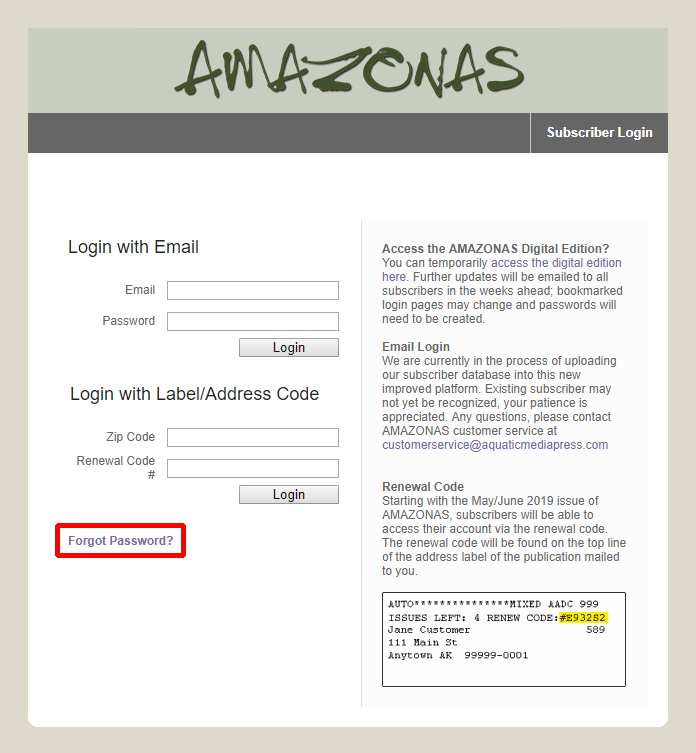 Step 3: Enter your email address on the next page, and click "Send Password".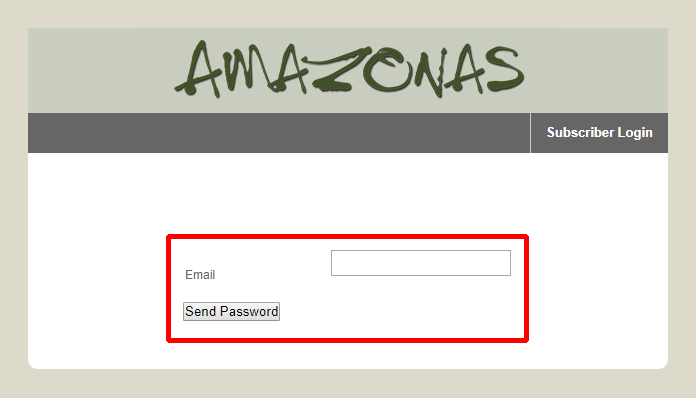 Step 4: If your email address is on file, you'll receive a successful confirmation message. A new password is generated and emailed to you.

However, if your email address cannot be found, you'll receive the error message below.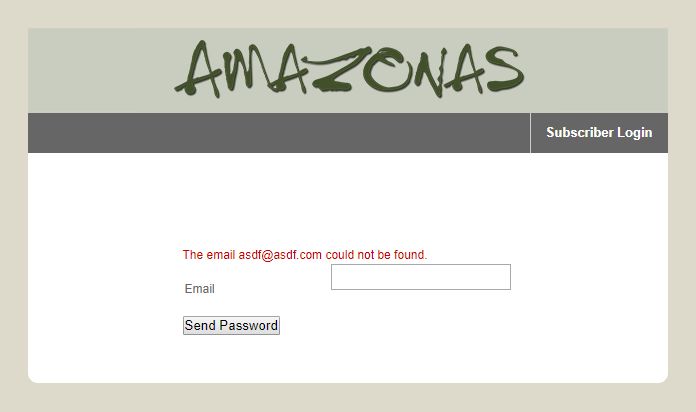 In these cases, you'll need to contact AMAZONAS Customer Service by email (customerservice@aquaticmediapress.com) or phone (800-217-3523, 9 AM – 5 PM Central Time, Monday-Friday). Otherwise, continue to the next step.
Step 5: Check your email inbox for an email containing a new password. 
It will come from no-reply@subscriptiongenius.com with a subject line such as "Digital Login for Annie Smith". Copy the password.

The email typically arrives within a couple minutes, so if you don't receive it, check your spam filters and junk-mail inboxes. If you still cannot find it, repeat steps 1-4 again to reset and resend a new password.
You can now log in with your email address and the newly-sent password.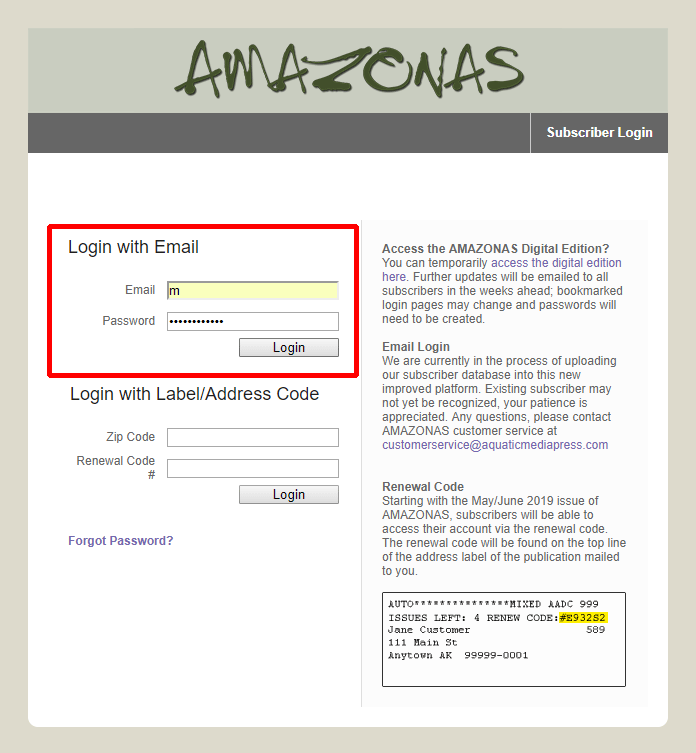 Step 7: You can now create your own password.
Once you've successfully accessed your account, you'll see both an area where you can update your mailing address (see upper red box highlight) and a place where you can now manually change your password to one of your own choosing.
Your passwords must match and must be at least 6 characters in length. Once you've entered your desired passwords, click "Update Passwords".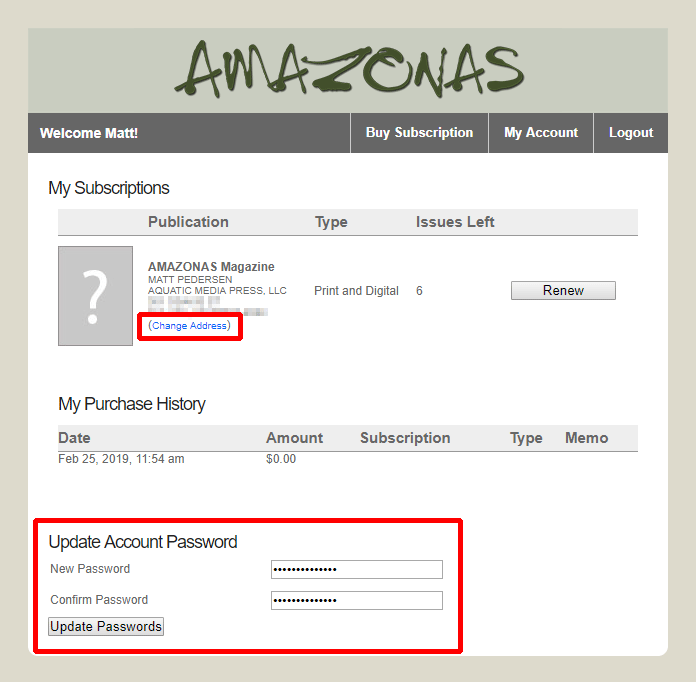 Step 8: If your passwords matched and met any other password requirements, you'll receive the following success message.

Congratulations, you've completely reset your AMAZONAS Subscriber Password, which is used to manage your subscription through this portal and to access the exclusive web-based AMAZONAS Magazine Digital Edition!
If you get any other red error message, simply repeat the process starting at step 7.
Manage Your Subscription – Use your new credentials to access our subscriber services portal with Subscription Genius anytime you need to update your subscription information.
View the latest Digital Edition – Log in with your email address and newly restored password to read the latest issue of AMAZONAS Magazine in our go-anywhere, mobile-friendly, web-based digital edition reader.
If you still require assistance, we're here to help. You can contact AMAZONAS Customer Service by email (customerservice@aquaticmediapress.com) or phone (800-217-3523, 9 AM – 5 PM Central Time, Monday-Friday).
The World's Favorite Freshwater Aquarium Magazine…
Subscribe Now

SIX BIG ISSUES A YEAR - IN HIGHEST-QUALITY PRINT & DIGITAL EDITIONS
Tell me more
We make subscribing quick and easy, with FREE Shipping and a FULL Money-Back Guarantee. Get one full year with six big bimonthly issues for just $39 to US addresses. International subscriptions with Air Mail delivery are also available. One price includes the award-winning print edition and the FREE AMAZONAS Digital Edition and access to a large Back Issue Archive.