Please be sure to check event status with organizers when planning to attend an event. All event information is subject to change.
Ohio Cichlid Association's 27th Extravaganza, Reboot 2021 (OH)
November 19, 2021

-

November 21, 2021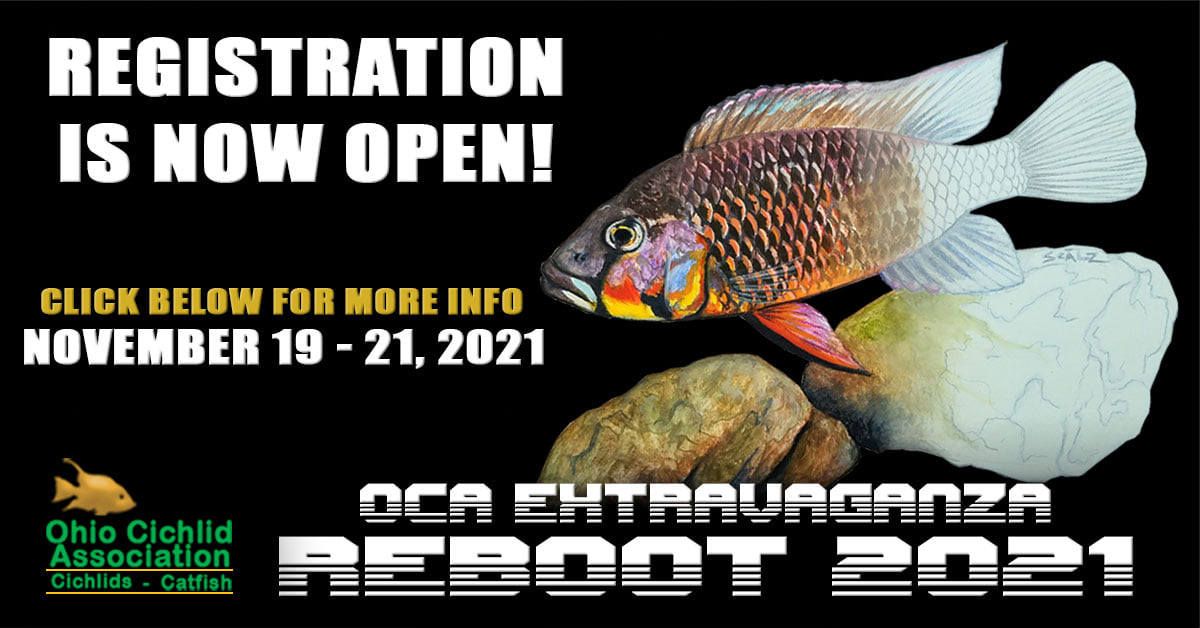 The Ohio Cichlid Association would like to invite you to Extravaganza Reboot 2021! This will be the 27th consecutive year that the OCA has hosted this event (including last year's Virtual version), which has become the most popular and economical regional aquarist gathering in the U.S.
As always, the Extravaganza will be held the weekend before Thanksgiving, which this year will be November 19-21. There is going to be one seemingly big change, however. The Holiday Inn Strongsville, which has been the Extravaganza's home since the 1st one in 1995, is changing corporate affiliation. By the time November rolls around, it will have become a Best Western Plus. The change-over officially happens sometime in July, and until then, there will be no online reservations. You can, however, reserve a room by calling the hotel's sales department directly at 440-783-3010, M-F 8am-5pm. Tell them it's for the OCA event. (You may have to leave a voice mail.) The room rate will remain an incredible $74/night for registered attendees, as our contract will still be valid.
We have assembled another diverse roster of speakers for your entertainment and edification: Ad Konings, Paul Loiselle, Les Kaufman, Luiz Tencatt, and Eric Bodrock. Plus, super-hobbyist Charley Grimes will give an updated reprise of his side-splitting "Dead Fish Talk" on Friday night. Watch here for more information about our guests and their presentations.
Other features: Vendor Room, Saturday Swap Meet, biggest Cichlid and Catfish Show in the US, hotel room sales, Saturday Pizza Party and Awards Presentation, a Dry Goods Auction, and a huge Sunday Cichlid and Catfish Auction. The Pizza Party, a well-stocked Hospitality Room, and morning coffee and donuts are all free to registered attendees.
There will be at least one carry-over from the Virtual Extravaganza: The Virtual Fish Show. This would be in addition to the traditional live Cichlid and Catfish Show, and would allow people who can't attend the event to participate – and for those who do attend, to show fish they don't want to take out of the fishroom.
The T-shirt design will again be the work of Sam "Scalz" Garcia, and an in-progress detail from this year's art accompanies this announcement.
To get you started, here are links to registration and to the sponsorships we are offering:
Please be sure to check event status with organizers when planning to attend an event. All event information is subject to change.