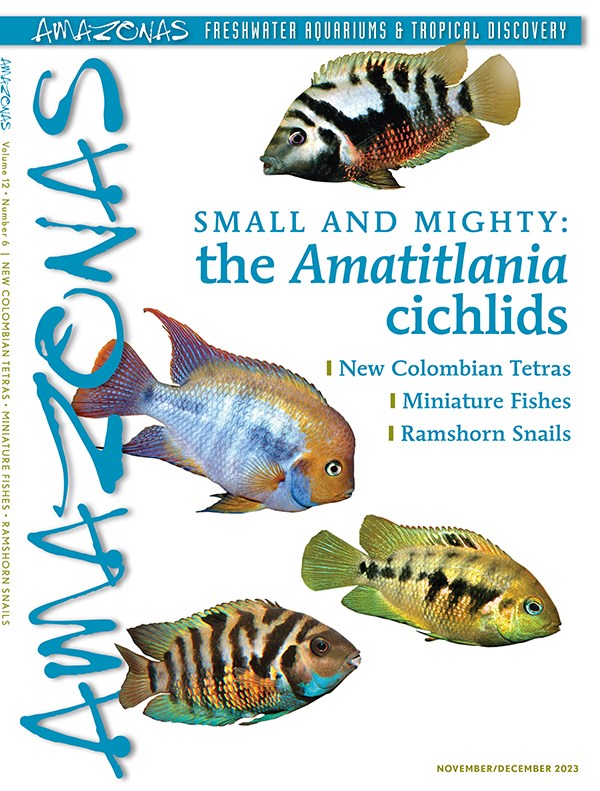 AMAZONAS Magazine is one of the world's legendary tropical fish publications, read by tens of thousands of enthusiasts who are passionate about keeping fascinating and thriving freshwater aquariums in homes, offices, schools, and businesses.
Take advantage of our best offers by following SUBSCRIBE above and get FREE Access to the current Digital Edition, followed by a full year of AMAZONAS — in both beautiful print and read-anywhere digital formats. You will enjoy generous savings over the newsstand price and the convenience of home delivery. Published bimonthly with Free Shipping and an Ironclad Guarantee.
Every big issue brings:
Tropical Fish Husbandry and Breeding
Rare and unusual fishes, plants and invertebrates
World-Class Aquarium Systems
Freshwater Aquarium Advice — Beginners to Breeders
Tropical Travel & Discovery, Thought-Provoking News, Portraits, Interviews, Technology Updates, and much more.
Stay inspired, stay informed, stay connected with the world's most enthusiastic aquarium keepers. Order a convenient and personal subscription for yourself or as a gift for your favorite fishkeeper.
The World's Favorite Freshwater Aquarium Magazine…
Subscribe Now

SIX BIG ISSUES A YEAR - IN HIGHEST-QUALITY PRINT & DIGITAL EDITIONS
Tell me more
We make subscribing quick and easy, with FREE Shipping. Get one full year with six big bimonthly issues for just $39 to US addresses. International subscriptions with Air Mail delivery are also available. One price includes the award-winning print edition and the FREE AMAZONAS Digital Edition and access to a large Back Issue Archive.