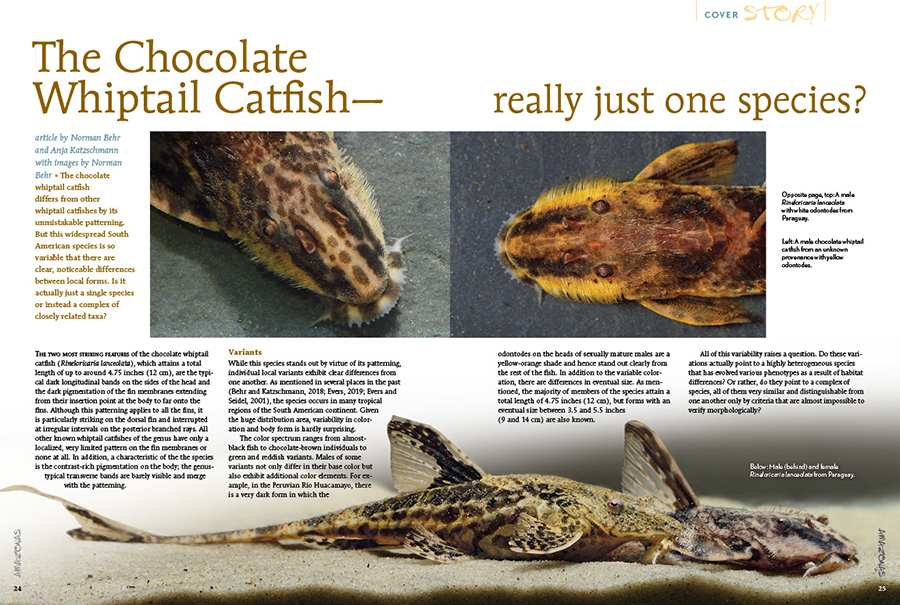 References
Behr, N. (2015). Whiptail Breeding: Success within Reach. AMAZONAS, 4 (1), 34-42.
Behr, N and A. Katzschmann. (2018). Discovering whiptail catfishes in Peru. AMAZONAS, 8 (3), 16-24.
Bleeker, M.-P. (1862). Atlas Ichthyologique des Indes Orientales Néêrlandaises: publié sous les auspices du gouvernement colonial néêrlandais. Vol 2. Imprimerie de De Breük and Smits à Leyde, Amsterdam.
Covain, R., et al. (2016). Molecular phylogeny of the highly diversified catfish subfamily Loricariinae (Siluriformes, Loricariidae) reveals incongruences with morphological classification. Molecular Phylogenetics and Evolution, 94, 492–517.
Evers, H.-G. (2019). Species Snapshots: Rineloricaria cf. lanceolata "Metallic". AMAZONAS, 8 (4), 93.
Evers, H.-G. and I. Seidel. (2005). Catfish Atlas vol. 1. Mergus Verlag, Melle, Germany.
Londoño-Burbano, A. and A. Urbano-Bonilla. (2018). A new species of Rineloricaria (Teleostei: Loricariidae) from the upper Vaupés River, Amazon River basin, Colombia. Ichthyological Exploration of Freshwaters,1071, 1–10.
Isbrücker, I.J.H. (1973). Redescription and figures of the South American Mailed Catfish Rineloricaria lanceolata (Günther, 1868) (Pisces, Siluriformes, Loricariidae). Beaufortia, 21 (278), 75–89.
Isbrücker, I.J.H and H. Nijssen. (1976). Rineloricaria heteroptera, a new species of mailed catfish from Rio Amazonas near Manaus, Brazil (Pisces, Siluriformes, Loricariidae). Zoologischer Anzeiger, 196, 109–124.
Isbrücker, I.J.H., et al. (2001). Diagnose vierzehn neuer Gattungen der Familie Loricariidae Rafinesque, 1815 (Teleostei, Ostariophysi). DATZ Sonderheft Harnischwelse, 2, 17–24.