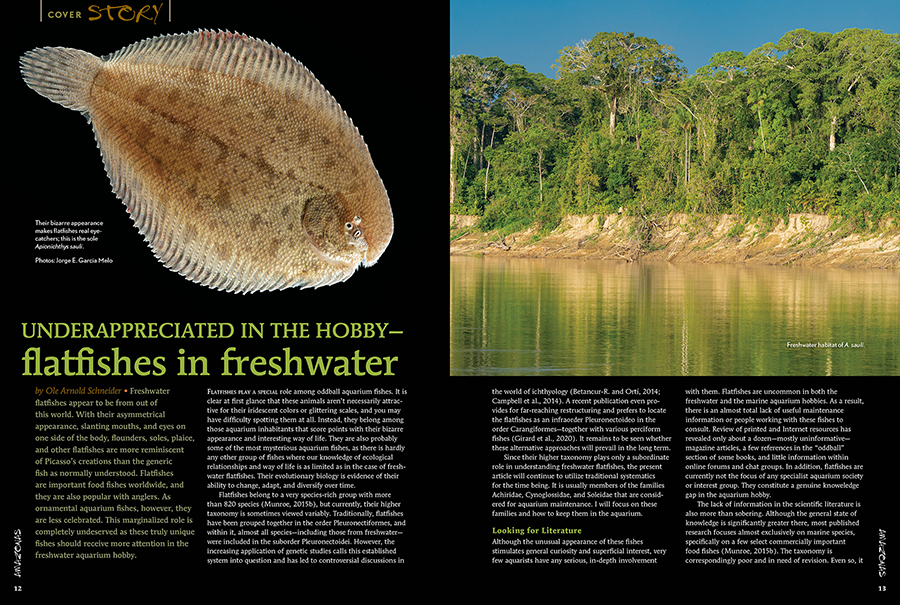 References
Allen, G.R., A.W. Storey, and M. Yarrao. 2008. Freshwater fishes of the Fly River Papua New Guinea. Ok Tedi Mining/Tropical Reef Research. 216 pp.
Azevedo, M.F.C., et al. 2008. Phylogenetic analysis of the order Pleuronectiformes (Teleostei) based on sequences of 12S and 16S mitochondrial genes. Genetics and Molecular Biology,31 (1): 284–292.
Betancur-R., R. and G. Ortí. 2014. Molecular evidence for the monophyly of flatfishes (Carangimorpharia: Pleuronectiformes). Molecular Phylogenetics and Evolution 73: 18–22.
Bialetzki, A., et al. 2005. Larval fish assemblage in the Baía River (Mato Grosso do Sul State, Brazil): temporal and spatial patterns. Environmental Biology of Fishes 73: 37–47.
Busse, K. 1993. Das Süßwasser-Seewasser-Aquarium. DATZ 46 (11): 712–716.
Campbell, M.A., and W.-J. Chen, and J.A. López. 2014. Molecular data do not provide unambiguous support for the monophyly of flatfishes (Pleuronectiformes): a reply to Betancur-R. and Ortí. Molecular Phylogenetics and Evolution 75: 149–153.
de Azevedo, M.F.C., et al. 2005. Chromosome banding and 18S rDNA in situ hybridization analysis of seven species of the family Achiridae (Teleostei: Pleuronectiformes). Genetica 125 (2–3): 125–132.
de Lima, A.F., et al. 2013. Mudanças morfológicas no trato digestório e composição da dieta de larvas e juvenis do linguado Catathyridium jenynsii no reservatório de Itaipu, Rio Paraná, Brasil. Iheringia, Série Zoologia 103 (3): 214–221.
de Oliveira, E.C. and L.F. Fávaro. 2010. Reproduction of the flatfish Achirus lineatus (Pleuronectiformes: Achiridae) in Paranaguá Bay, State of Paraná, a subtropical region of Brazil. Zoologia 27 (4): 523–532.
Girard, M.G., M.P. Davis, and W.L. Smith. 2020. The phylogeny of carangiform fishes: morphological and genomic investigations of a new fish clade. Copeia 108 (2): 265–298.
Houde, E.D., C.R. Futch, and R. Detwyler. 1970. Development of the lined sole, Achirus lineatus, described from laboratory-reared and Tampa Bay specimens. Technical series, no. 62. Marine Research Laboratory, Department of Natural Resources, St. Petersburg, Florida.
Lavoué, S. 2020. Origins of Afrotropical freshwater fishes. Zoological Journal of the Linnean Society 188 (2): 345–411.
Lucas, M.C. and E. Baras. 2001. Migration of Freshwater Fish. Blackwell Scientific Publishing, Oxford.
Matsushita, Y., et al. 2020. Flatfishes colonised freshwater environments by acquisition of various DHA biosynthetic pathways. Communications Biology 3: 516.
Meek, S.E. and S.F. Hildebrand. 1928. The marine fishes of Panama. Part III. Field Museum of Natural History Publications Zoological Series 15: 709–1045.
Munroe, T.A. 2015A. Distributions and biogeography. In: Gibson, R.N., et al. (Eds). Flatfishes: Biology and Exploitation, 2nd edition. John Wiley & Sons, Chichester, England. pp 52–82.
Munroe, T.A. 2015B. Systematic diversity of the Pleuronectiformes. In: Gibson, R.N., et al. (Eds). Flatfishes: Biology and exploitation, 2nd edition. John Wiley & Sons, Chichester, England. pp 13–51.
Ortíz-Galindo, J.L., et al. 1990. Embrión, larva y prejuvenil del sol mexicano Achirus mazatlanus (Pisces: Soleidae). Revista de Biología Tropical 38 (2A): 195–204.
Orsi, M.L., et al. 2016. Ovos, larvas e juvenis dos peixes da Bacia do Rio Paranapanema uma avaliação para a conservação. Triunfal Gráfica e Editora, São Paulo. 136 p.
Ramos, R.T.C. 1998. Estudo filogenético da família Achiridae (Teleostei, Pleuronectiformes, Pleuronectoidei), com a revisão das formas de água doce da América do Sul Cis-Andina e a reavaliação do monofiletismo de Soleomorpha ("Soleidae"). PhD. Thesis, Museu de Zoologia da Universidade de São Paulo.
Schultz, E.T. and S.D. McCormick. 2013. Euryhalinity in an evolutionary context. In: McCormick, S.D., A.P. Farrell, and C.J. Brauner. (Eds). Euryhaline fishes. Academic Press, Oxford. pp 477–533.
Silva-Falcão, E.C., W. Severi, and M.E. de Araújo. 2013. Spatial-temporal variation of Achirus larvae (Actinopterygii: Achiridae) in mangrove, beach and reef habitats in north-eastern Brazil. Journal of the Marine Biological Association of the United Kingdom 93 (2): 381–388.
Weber, M. 1908. Süsswasserfische von Neu-Guinea. Ein Beitrag zur Frage nach dem früheren Zusammenhang von Neu-Guinea und Australien. In: Wichmann, A. (ed.): Nova Guinea. Résultats de l'expédition scientifique Néerlandaise à la Nouvelle-Guinée en 1903. E. J. Brill, Leiden. v. 5 (Zool.) pt 2: 201-267, Pls. 11-13.
Weber, M. 1913. Süsswasserfische aus Niederländisch Süd- und Nord-Neu-Guinea. In: Lorentz, M.H.A. (ed.): Nova Guinea. Uitkomsten der Nederlandsche Nieuw-Guinea-Expeditie in 1907 en 1909. E. J. Brill, Leiden.