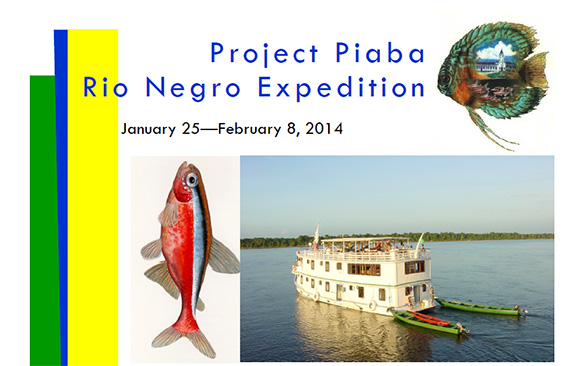 Project Piaba's "Buy a Fish, Save a Tree" philosophy might be familiar to aquarists who've been around the Cardinal Tetra tank a few times, but if not, the gist is simple, albeit at first counter-intuitive.
Simply put, a sustainable fishery in the Rio Negro in Brazil, of which approximately 80% is comprised of the Cardinal Tetra (Paracheirodon axelrodi), creates income for the local population, in turn creating a vested interest in preserving the habitat that supports the fishery.
Project Piaba researches this fishery to better understand and promote what arguably embodies the vision for "sustainability" when discussing wild aquarium fisheries — and now is your chance to see this fishery firsthand.
Since 1991, annual expeditions with fish hobbyists (organized by Scott Dowd of New England Aquarium) have brought over 200 ecotourists to the region, bringing visitors in direct contact with the communities of the Rio Negro who depend on this fishery for their livelihoods while experiencing the precious ecosystems that this fishery helps protect. Each year's trip is scheduled to coincide with the annual Ornamental Fish Festival of Barcelos, the Amazonian version of the famous Brazilian Carnival. The 2014 expedition is just around the corner, and it's not too late to join in this unique experience, but you'll have to act quickly to make sure things like vaccinations and travel visas are sorted out!
Participants will fly from Miami to Manaus, the capitol of the state of Amazonas. From there, you will board a very well-equipped Amazon river boat and travel up river, exploring the amazing diversity of the Amazon and encountering macaws, Amazon river dolphins, giant river otters, hundreds of fishes and even waking to the sound of howler monkeys. You'll spend 2 weeks on the live-aboard boat with English speaking guides, visiting biological hotspots and fishing communities along the way.
You'll interact with international specialists, Project Piaba's Brazilian colleagues, experienced river guides and local fishers, who will share their knowledge of the area and its culture. You'll visit ornamental fish export facilities and participate in the Ornamental Fish Festival of Barcelos.
For veterinarians interested in the expedition, there is an additional opportunity unique to the 2014. Dr. Tim Miller Morgan (Professor at Oregon State University) and Dr. Nick Saint Erne (PetSmart) will be particpating in the trip, and have made it possible to offer Continuing Education credits for aquatic vets that participate in the program. Both doctors will be giving lectures and practicum demonstrations focused on the ornamental fishes of the Rio Negro throughout the two weeks on the boat. Participants in this continuing education project will be spending a few days visiting an ornamental fishing community that are not accessible by on the live-aboard boat; you'll get there by motor canoe, and stay with the community for a couple nights.
Overall trip details at a glance:
Dates: January 25, – Feb. 8 2015
Costs: US $2,500 for the two weeks on the boat
Included:
accommodations in a double occupancy cabin. En suite, air conditioned
All meals, mineral water, coffee/tea, juices
all program activities, guides, etc
Local transportation in Brazil; airport pickup, & drop off
Not included:
airfare (rendezvous in Manaus, Brazil or Miami)
travel documents: passport, tourist visa
Guide/boat crew tips
Alcoholic and carbonated beverages – there is a well stocked bar on the boat and a tab is settled up at the end of the trip
Summary:
This trip will take us to biological hotspots along the Rio Negro. There will be a lot of eco-tour type activity but there will also be a focus on the ornamental fishery of the region. There will be specialists on board that are experts in the fishery in various capacities and workshop type discussions will be held throughout the trip to advance our strategy to maximize socioeconomic and environmental benefits of the aquarium trade to the region.
Ready to join the expedition? For additional information, please contact:
Scott Dowd
New England Aquarium
Boston, MA
(781) 626-3138
sdowd@neaq.org
Or
Timothy J. Miller-Morgan, DVM, CertAqV
Aquatic Animal Health Program – Oregon Sea Grant,
College of Veterinary Medicine
Hatfield Marine Science Center, Oregon State University
2030 Marine Science Drive
Newport, OR 97365
(541) 867-0265 (office)
(541) 867-0320 (fax)
Skype Name: h20doc
tim.miller-morgan@oregonstate.edu
Additional Information:
Project Piaba Official Website
Project Piaba in Discovery Magazine
2014 Expedition Coverage on NEA Blog
2014 Invitation from Dr. Tim Miller Morgan
Be sure to follow Project Piaba on Facebook to keep up with the latest developments and opportunities.  If you can't make the 2014 expedition, it's time to start planning now for 2015!
Credit: All images courtesy Scott Dowd, Project Piaba, New England Aquarium