The discovery of a new rainbowfish is always occasion for cheer among a large global network of aquarists, but when a particularly spectacular species unknown to science is found in a small pond in an abandoned mining camp deep in the rainforests of remote Papua Province, the excitement spreads. Now that fish has been described as
Melanotaenia rubrivittata
by Gerald Allen, et al in the Journal
Fishes of Suhal
, Volume 29:1.
The new rainbow is related to the Neon Rainbowfish,
Melanotaenia praecox
, one of the the most popular of this family in the aquarium trade. Unlike
M. praecox
, the new species has a more elongate body with electric neon blue color and five brilliant red stripes along its flanks. Lead researcher and renowned ichthyologist Dr. Gerry Allen had first collected lab specimens in 1998, and the "neon rainbow with red stripes" became the stuff of legends.
In an AMAZONAS Magazine issue in 2014, writer Johannes Graf reported on a 2012 expedition to look for new rainbowfishes, including the red-striped fish from the Wapoga watershed.  (
AMAZONAS, Nov/Dec 2014: New Rainbows, Volume 3, Number 6.
) U.S. based-breeder Gary Lange, an AMAZONAS contributor, was part of the trek and he dubbed the fish with an aquarium moniker "Wapoga Red Laser" Rainbowfish. Lange was apparently also the first to photograph and breed the fish in captivity and to provide breeding stock to Hans-Georg Evers in Germany.
Captive breeding efforts may ensure a long and protected life for
M. rubrivittatus
in the aquariums of rainbowfish fanciers, even as environmental pressures mount species with miniscule endemic ranges in Papua New Guinea.
The following excerpts appear with permission of the Fishes of Suhal Journal, published by the Australia New Guinea Fish Association (ANGFA). For a full account, see links below:
MELANOTAENIA RUBRIVITTATA, A NEW SPECIES OF RAINBOWFISH
(MELANOTAENIIDAE) FROM NORTHWESTERN PAPUA PROVINCE, INDONESIA
Gerald R. Allen, Peter J. Unmack & Renny K. Hadiaty
Abstract:
A new species of melanotaeniid rainbowfish,
Melanotaenia rubrivittata
, is described from the
Wapoga River system of northwestern Papua Province, Indonesia. The new taxon is described
on the basis of 26 specimens, 18.0–48.7 mm SL, collected from two sites near the Tirawiwa
River. It is similar to M. praecox in general appearance and morphology, but differs in
possessing red body stripes, a more slender body shape in adult males, a slightly longer snout,
and fewer lateral scales. Genetic analysis provides additional evidence for the separation of
these taxa.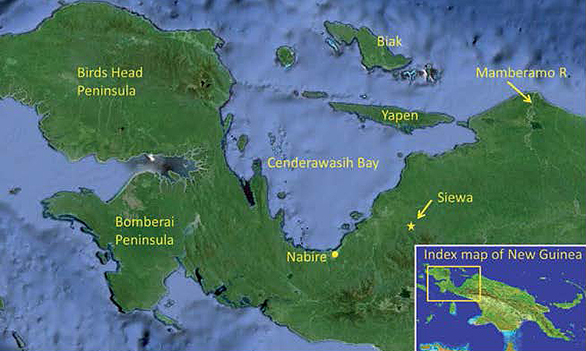 Distribution, habitat and zoogeography:
The new species is known only from the
Wapoga River system in the vicinity of Siewa, former site of a Freeport Mining Company
exploration camp. This location (Fig. 1) is approximately 100 km northeast of Nabire, a relatively
large town lying on the edge of Cenderawasih Bay. The type locality (Fig. 7) is situated
about 130 km upstream in the Wapoga system at an elevation of approximately 70 m on the
edge of a broad floodplain adjacent to nearby foothills. At the time of collection (April 1998)
it consisted of a small pond, resulting from previous flooding of the nearby Tirawiwa (sometimes
spelt Tiawiwa) River.
The pond was fully shaded and about 12 m in diameter with an
average depth of only 30 cm. The substratum was composed of soft mud covered with a layer
of organic debris, mainly dead leaves. Additional paratypes were collected in a small (2–5 m
width), closed-canopy rainforest stream 1.3 km northwest from the type locality. The new
species and Mogurnda wapoga Allen et al. 1999 (Eleotridae) were the only fishes collected at
both sites, although a few juvenile Glossolepis leggetti Allen & Renyaan 1998 (Melano –
taeniidae) were obtained from the pond habitat. Temperature and pH values of 27.0°C/6.6
and 28.7°C/8.0 were recorded for the respective pond and stream habitats.
Etymology:
The new species is named rubrivittata (Latin: red-stripes) with reference to the
distinctive markings that distinguish it from the similar appearing M. praecox.
SOURCES
From materials provided by the Fishes of Suhal and the
Australia New Guinea Fishes Association
(ANGFA).