A recent journal article by Robins, Brown, and Crutchfield (2020) in BioInvasions Records reports the misidentification of an invasive South American cichlid that has been inhabiting central Florida's waterways for nearly 20 years.
The black acara, Cichlasoma bimaculatum (Linnaeus, 1758), was first introduced to the waters of Florida in the early 1960s as an aquarium release and/or aquaculture escape. After its introduction, the species widely established itself in south Florida. In 2000, well outside of its known distribution range, additional cichlids were collected and museum specimens preserved from Lake Tarpon, Pinellas County in west-central Florida, and more recently (since 2017) in the Upper St. Johns River system in central Florida. These new populations were assumed to be a distribution expansion of C. bimaculatum or perhaps a second introduction of the same species. For nearly 20 years, the South American invader in central Florida was misidentified.
The actual identity of this fish is Cichlasoma dimerus (Heckel, 1840); sometimes referred to as the chanchita or the dimerus cichlid. It remained under the radar due to its morphologically similar appearance to the black acara. Specimens of C. dimerus were even used as incognito C. bimaculatum in several publications and reference books such as Fishes in the Freshwaters of Florida (Robins et al. 2018).
Diagnostics
Although phylogenetically related and morphologically similar, there are key external differences distinguishing the two species. Anal-fin spine count perhaps may be the easiest diagnostic. Cichlasoma bimaculatum typically has 4 anal-fin spines, whereas C. dimerus has 3 spines. Furthermore, C. dimerus has a "brilliant metallic-green to light-blue body and fin color on larger individuals, strongly asymmetric caudal-fin pattern, and heavy head and nape scale-rim pigment." Cichlasoma bimaculatum, on the other hand, is typically beige with clear to light gray fins, nearly symmetrical spotting of upper and lower lobes of the caudal fin, and scale rimming on the nape is either absent to light. When looking at living specimens or images of the fish in life, it may be hard to imagine how the true identity was overlooked for so long even by professionals. What we need to realize is that fish coloration depends on a variety of factors including habitat and mood, and once pickled in formalin, museum specimens lose their bright coloration and all revert to a muted gray-scale. Mistakes happen.
Range Expansion Potential
Perhaps more important than the aesthetic differences between the two species is their native ranges. The black acara is a tropical fish native to Brazil, Venezuela, French Guiana, Suriname, and Guyana. It accordingly has a temperature lower lethal limit of 47.5 F (8.6 C) which limits its future colonization to warm waters. Cichlasoma dimerus, however, is a tropical and subtropical species that can tolerate a wider range of water conditions and temperatures. It hails from lentic waters of the Paraguay and Paraná River basins in Argentina, Brazil, Paraguay, Uruguay, and Bolivia. The wider temperature tolerance makes this species capable of expanding its distribution beyond that of central Florida.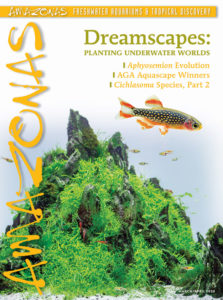 Learn more about the history of discovery and distribution of these and other Cichlasoma species in an article by Willem Heijns in the upcoming March/April 2020 issue of AMAZONAS.
Start a new AMAZONAS subscription HERE.
References:
Robins, R.H., M.E. Brown, and R.A. Crutchfield. 2020. Identification of acara (Cichlidae: Cichlasoma) established in Florida, USA. BioInvasions Records 9: in press.
Robins, R.H, et al. 2018. Fishes in the Fresh Waters of Florida: An Identification Guide and Atlas. University of Florida Press, Gainesville, Florida. 467 pp.
Marchese, H. 2020. Fish switch: Identity of mystery invader in Florida waters corrected after 20 years. Retrieved from https://www.floridamuseum.ufl.edu