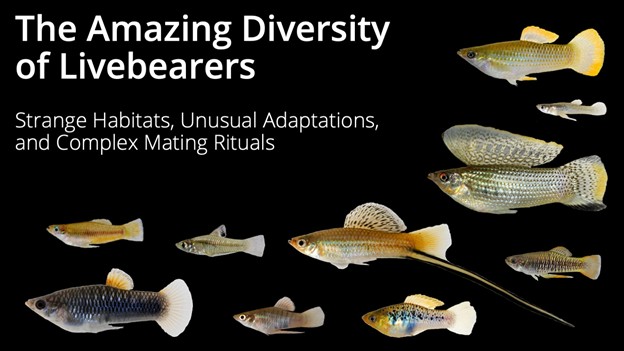 via Minnesota Aquarium Society (MAS)
Open to the public – Register now for the December 3 Meeting (7:00 PM central time).
Event Page: The Amazing Diversity of Livebearers – by Michi Tobler
There is more to Livebearers than guppies, mollies, platys, and swordtails — almost 280 species of poeciliids. Michi will provide an overview of the different groups of livebearers, their reproduction, and the ways they have adapted to all kinds of weird habitats. He will show pictures and tell stories from over 30 collection trips throughout Latin America and share experiences from 25 years of keeping livebearers.
###
Editor's Note: With the Covid Pandemic continuing to thwart many traditional aquarium-related events & gatherings, some aquarium clubs are finding ways to continue their connections and educational missions through dedicated online events, such as this one. Free access to events, like this one with the Minnesota Aquarium Society, offers an opportunity to experience some of what aquarium clubs have to offer to their membership.
If your club is holding a free-to-the-public online speaker event and would like us to consider sharing it with AMAZONAS readers, please email details to Janine.Banks@aquaticmediapress.com.