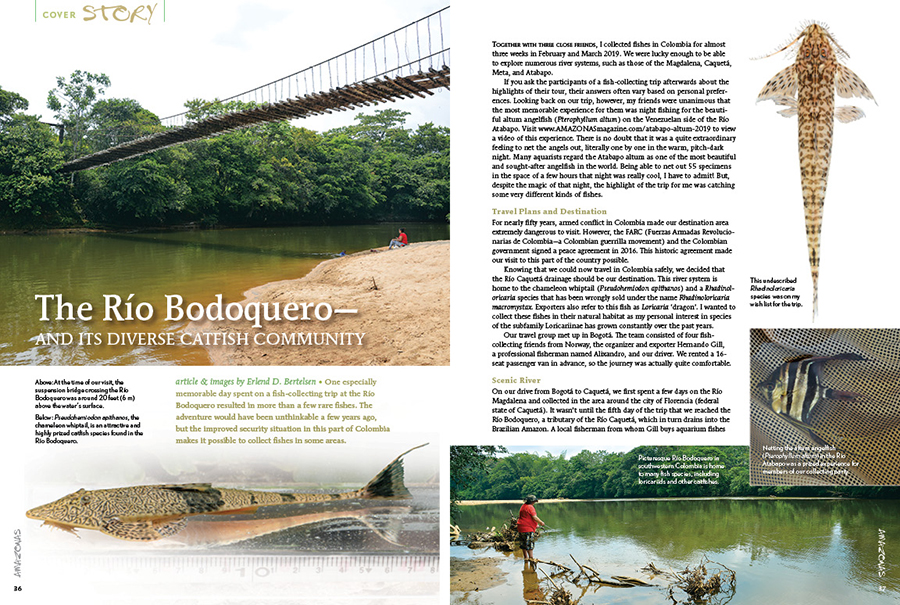 In the January/February 2021 issue of AMAZONAS, author Erlend D. Bertelsen shares his personal experiences on a collecting expedition in Colombia in 2019. His article focuses on the diverse catfish community of the Río Bodoquero. Of course, he and his companions collected more than catfishes during their weeks in Colombia.
Bertelsen writes, "If you ask the participants of a fish-collecting trip afterward about the highlights of their tour, their answers often vary based on personal preferences. Looking back on our trip, however, my friends were unanimous that the most memorable experience for them was night fishing for the beautiful altum angelfish (Pterophyllum altum) on the Venezuelan side of the Río Atabapo."
Bertelsen pointed us to a brief video of their experience, depicting how the fishes are collected by hand, at night, in the shallows.
Watch The Video Now
He continues, "There is no doubt that it was a quite extraordinary feeling to net the angels out, literally one by one in the warm, pitch-dark night. Many aquarists regard the Atabapo altum as one of the most beautiful and sought-after angelfish in the world. Being able to net out 55 specimens in the space of a few hours that night was really cool, I have to admit! But, despite the magic of that night, the highlight of the trip for me was catching some very different kinds of fishes."
Read more about Bertelsens's Colombian fish collecting expedition in the January/February 2021 issue of AMAZONAS Magazine. Currently available at fine independent aquarium shops, as a back issue directly from the publisher, and accessible to all subscribers, anytime, in our digital edition (log in now!)