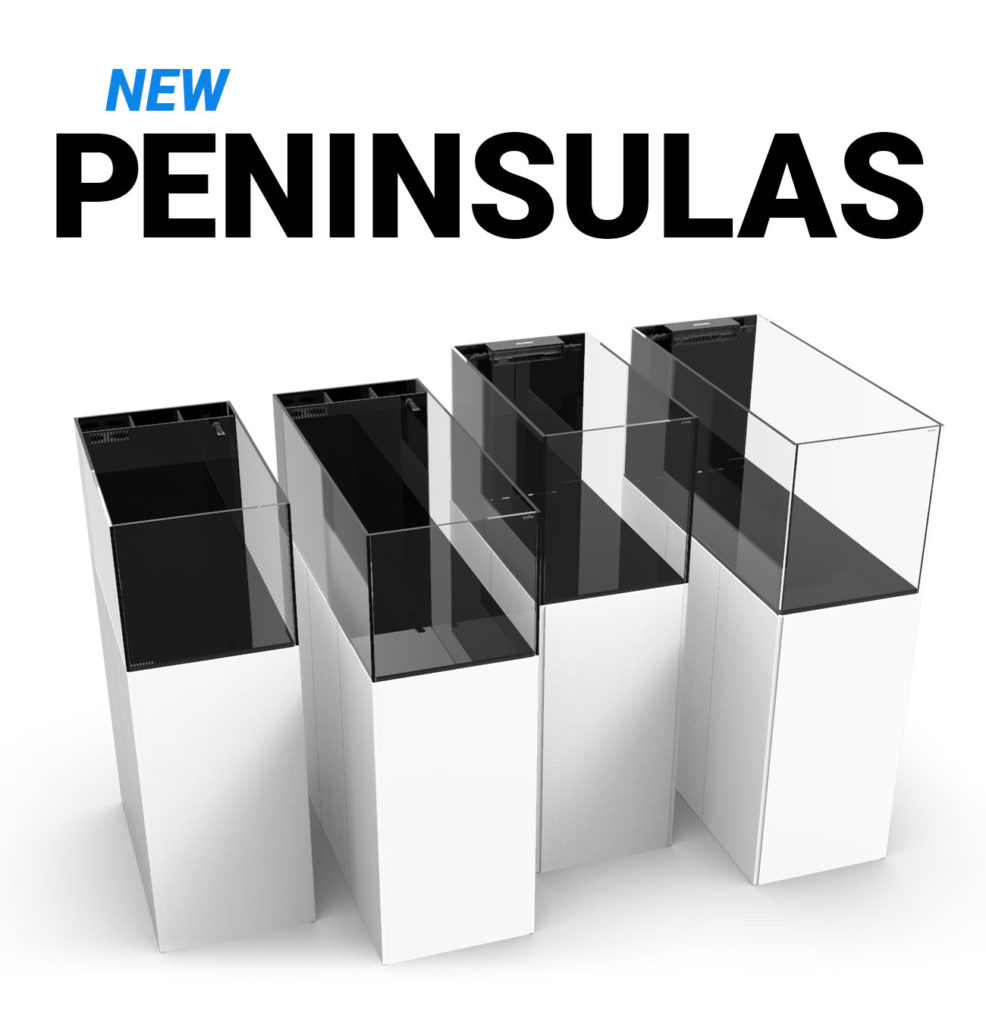 Announced through a YouTube Livestream, Waterbox Aquariums has expanded their offerings of peninsula or room-divider style aquariums.
Prior, Waterbox offered 60″ and 72″ peninsula-style aquarium systems with overflows, cabinetry, and sumps. Then, the Peninsula Mini line of all-in-one aquariums was added to the lineup. This latest introduction bridges the gap between the small and large aquariums, adding both standard overflow systems and all-in-one options in both 36″ and 48″ lengths.
These new smaller sizes of "Room Dividers" feature similar highlights from existing sizes including glass overflow boxes, glass overflow covers, removable weir teeth (for easy cleaning, dual adjustable return nozzles, and Opti-white/Ultra-clear (Starfire) glass construction. The peninsula-style models also include configurable aquarium cabinets that allow the aquarist to determine the location of the doors to allow access to the interior of the stand. 40″ tall stands offer height that help emphasize the room-divider aspect of this aquarium style.
The New Models at A Glance:
PENINSULA 3620
Tank Volume: 59.3 gallons
Tank Dimensions: 35.4″×19.7″×21.7″
Stand Dimensions: 35.4″×19.7″×39.4″
PENINSUAL 4820
Tank Volume: 59.3 gallons
Tank Dimensions: 47.2″×19.7″×21.7″
Stand Dimensions: 47.2″×19.7″×39.4″
Learn more about all of Waterbox's Peninsula Aquariums with overflows
View all Peninsula Tech Specs
PENINSULA AIO 50.3
Tank Volume: 49.1 gallons
Tank Dimensions: 35.4″×19.7″×17.7″
PENINSULA AIO 65.4
Tank Volume: 65.8 gals
Tank Dimensions: 47.2″×19.7″×17.7″
Learn more about all of Waterbox's All-In-One Aquariums
View all Peninsula All-In-One Tech Specs
Watch the New Aquarium Reveal on WB Live