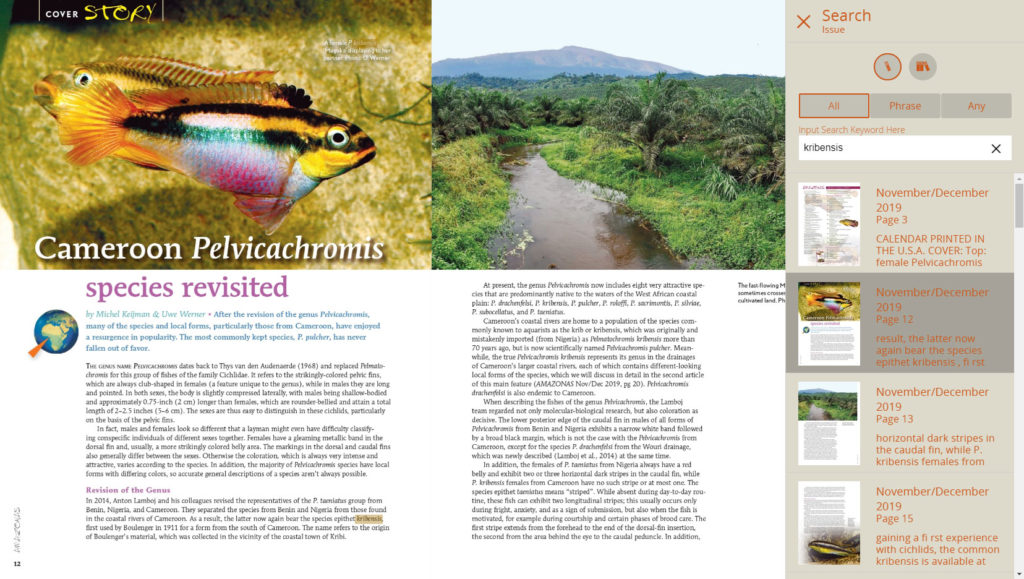 Did you know that all AMAZONAS subscribers have access to an incredibly powerful search tool? The upgraded AMAZONAS Digital Edition, first launched in 2018, boasted a better user experience for mobile users, but the improved text search capabilities will help you find content in any digitized edition of the magazine.
Instead of having to try to remember where you read something, pulling printed copies off the shelf, or scrambling with an Internet search in the hopes that maybe our Table of Contents or Inside Look blog posts can help you find it, you have a better option. Leverage the Digital Edition's full-text search covering years' worth of AMAZONAS Magazine issues in seconds. Here's how you do it:
Log in to the AMAZONAS Magazine Digital Edition; you'll need to have an active subscription.
Click the search icon, which looks like a magnifying glass. In "Content View", the search form is at the top of the screen and will search all issues. For a more robust, full list of search options, use the "Page View" (showing pages as they appear in the printed magazine); the search is at the bottom right of the screen in this mode.
When using the full search, you'll have the option to search either the single issue or all issues in the digital archives. You can further refine your search by either matching "any" term you've entered, "all" (so all must be present), or even even a specific multi-word phrase.
Clicking the enter key on your keyboard, or the "go" arrow on your mobile device, will retrieve your search results in a scrollable list.
Click on a result and you'll be taken directly to that content, with your search matches highlighted in the reader!
The search results are still present…simply click on the search icon again to reveal the list of results, or to start another search.
Currently, this tool can be utilized on all AMAZONAS issues dating back to 2014. We hope to add additional years (2012 and 2013) in the future! If you're not yet an AMAZONAS subscriber, this powerful tool and robust archive of back issues is well worth the price of admission! Subscribe today!