We've kept it from you long enough. It's one of those things that we simply can't "print" in a magazine. It's the official trailer for Weird Waters, coming to your screen in the summer of 2021!
Watch The Trailer, Now!
Aquarists React to Weird Waters
"My grandkids are going to love this!" exclaimed Julie Filteau, a sales representative at aquarium wholesaler Segrest Farms, when seeing the trailer above. "We need to watch this now!" she continued. Reflecting on this new series, she added, "This is definitely going to help get some new and younger blood into the aquarium hobby, and that's going to be good for the aquarium industry." Aquarium retailers, take note!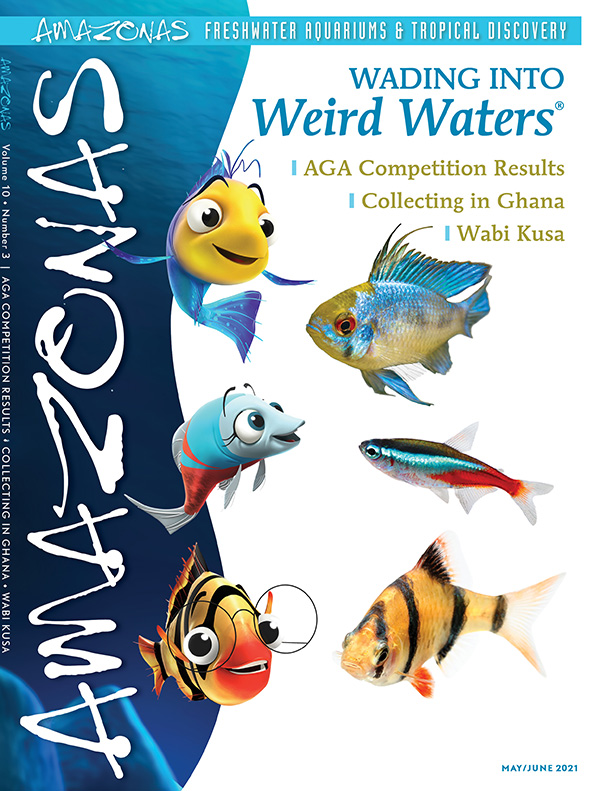 Kim Vigil, an Oregon-based pediatrician, says reading support is an important aspect of what she does at her clinic. "We do a lot to encourage reading including the Reach Out and Read program which provides free books to kids under 5, but we rely on donations including Goodwill to provide books to older kids." Vigil saw the new issue as an opportunity to partner with AMAZONAS to get copies of the new issue into the hands of the children she sees at her clinic. "I can't wait to share these with the kids in the clinic to encourage reading, decrease screen time and get them excited about aquatic life," she wrote, upon receiving a large shipment of magazines. Weird Waters is already having its desired effect!
Indeed, Weird Waters has received nothing but excitement and praise following our initial introduction in the May/June 2021 issue of AMAZONAS Magazine, Wading Into Weird Waters (available as a back issue for purchase and accessible to all subscribers in the AMAZONAS digital edition archives).
The fantasy cartoon features a cast of over 70 characters inspired by the freshwater aquarium fish we all know and love. AMAZONAS will continue to introduce many of these to our readers in our "Keeping the Cast" column, offering concise easy-to-understand background and husbandry information, particularly well-suited to younger and first-time aquarists inspired by Weird Waters.
Be sure to watch AMAZONAS for more news out of Weird Waters, and follow the show on your preferred social media platform for updates and additional sneak peeks at the series!
Watch the Trailer on Vimeo | Visit the Weird Waters website | Subscribe to Weird Waters on YouTube | Follow Weird Waters on Facebook | Follow Weird Waters on Instagram